Home Buyer Statistics
First-Time vs. Repeat Buyers:

First-time buyers: 34%
Median age of first-time buyers: 32
Median age of repeat buyers: 54
Median household income of first-time buyers: $75,000
Median household income of repeat buyers: $97,000

The typical home purchased was 1,870 square feet in size, was built in 1991, and had three bedrooms and two bathrooms.
Among those who financed their home purchase, buyers typically financed 90% of the home price.
87% of buyers purchased their home through a real estate agent or broker—a share that has steadily increased from 69 percent in 2001.
Buyers who would use their agent again or recommend their agent to others: 89%
Where buyers found the home they purchased:

Internet: 51%
Real estate agent: 30%
Yard sign/open house sign: 7%
Friend, relative or neighbor: 6%
Home builder or their agent: 5%
Directly from sellers/Knew the sellers: 2%
Print newspaper advertisement: Less than 1%
Source: 2017 National Association of REALTORS® Profile of Home Buyers and Sellers
78% of home buyers surveyed in NAR's 2013 Community Preference Survey responded that neighborhood quality is more important than the size of the home.  57% would forego a home with a larger yard in favor of a shorter commute.
NAR's 2013 Profile of Buyers' Home Feature Preferences found that the feature that had the highest dollar value buyers were willing to pay more for was a waterfront property.  53% of home buyers undertook a home improvement project within 3 months of buying, typically spending $4,550 in improvement projects.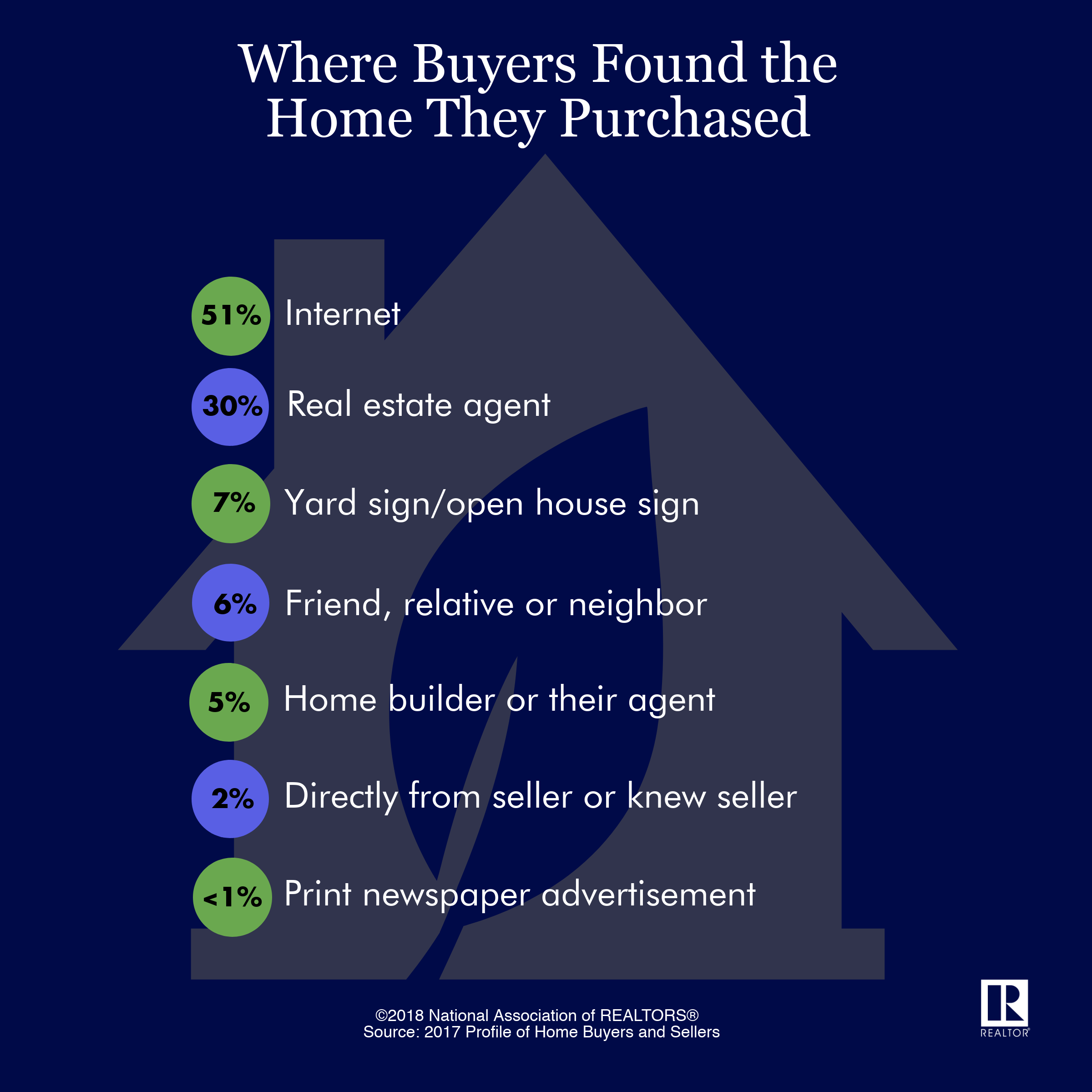 Home Seller Statistics
The typical home seller in 2016 was 55 years of age, had a median household income of $103,300, and lived in their home for 10 years.
89% of sellers were assisted by a real estate agent when selling their home.
Recent sellers typically sold their homes for 99% of the listing price, and 22% reported reducing the asking price at least once.
The typical home sold was on the market for 3 weeks.
41% of sellers who used a real estate agent found their agents through a referral by friends or family, and 23% used the agent they previously worked with to buy or sell a home.
Sellers who definitely would use same agent again: 67%
Source: 2017 National Association of REALTORS® Profile of Home Buyers and Sellers 
In the Real Estate Market?
You should consider using a realtor.  I could save you money especially with new home builders and it does not cost you anything.  So why not? Let me save you money!!!  If you are interested in buying real estate (new home, existing home, or commercial property), please contact me (Alan Lane with Signature Realty Associates at 2234 Lithia Center Lane, Valrico, Florida).  As a life long resident of Central Florida, I can help you find the right property for you whether it is in Orlando or as far south as Sarasota.  My email address is alanlane66@gmail.com, or call me at 813.205.9280.  If you are just starting your search, you can search the MLS for real estate opportunities on my website at this link.